Supporting our women to support society
Educational Support for Children
Another important aspect of Ankur Kala's empowerment programme is to encourage the women artisans to send their children to school, and to help them Ankur Kala extends financial support towards their school and tuition fees. We also provide/purchase required text books and stationery.
With the financial burden lessened, the mother's take pride in their children's academic achievement and we have had many huge success stories in our three decades. These children of our graduates, themselves graduate with a good education, and can get good jobs, breaking the cycle of poverty which keep our poor families illiterate, exploited and remaining in poverty.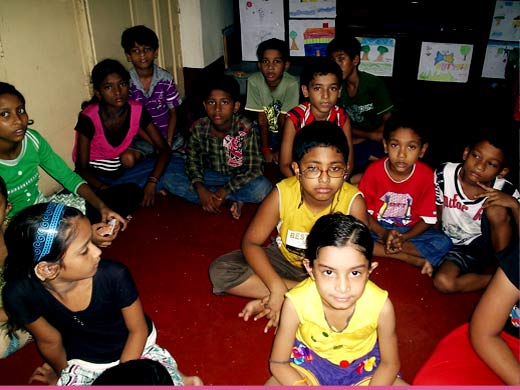 Their children, our children.
Kids at a summer activity camp, held at Ankur Kala.

MORE:

Download our
Brochure!
Universal Spirituality
An Ankur Kala woman is taught Yoga, enjoys meditation and is encouraged to travel outside Kolkata and to learn from successful women in other states. Our women come from diverse religions and backgrounds. Spiritual inputs have been consciously given to our women. This strengthens the person and helps create a more joyous and productive life. Each morning there is a yoga session which is followed by a short meditation and common prayer.
Texts from various scriptures are read which emphasise the importance of being selfless, caring for one another, forgiving one another and not to fall into the glamourous trap of consumerism. Once a month each woman is encouraged to serve and help out another organisation or centre as a labour of love.
The entire staff and women share a solidarity meal of rice and salt once each month. These little inputs have made our women, women of substance.